Well Maintained Roadways Improve Fuel Efficiency.
You can see hybrid cars on the roads, electric plug in stations to charge your car, and hydro fuel cell technology, and there are still new technologies being developed to make our cars more energy efficient. But instead of looking at the car, Franz-Josef Ulm and his team at MIT have been studying whats below our tires. When it comes to our carbon footprint,  what he's found out about the roads are just as important as the vehicle.
Ulm and his team have been studying PVI, Pavement Vehicle Interactions. Their studies have found that a phenomena associated with PVI, including roughness and deflection, account for 1% of overall fuel consumption. While this doesn't mean significant gas savings for passenger cars. It would make an enormous difference for 40 ton trucks with up to a 4% gas savings.
"If we can save 2 million tons of CO2 per year at an aggregate level, this becomes extremely important in a low carbon economy."  Ulm told Engineering News Record Magazine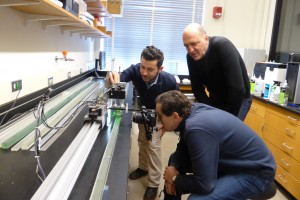 Rather than use real trucks on real pavement, which has been previously tested and ignored structure and metal properties. Ulm used a small scale experimental approach to measure the force required to move the tire forward.
"Most of the world is looking from the tires up to understand how to produce less greenhouse gas. But we're looking from the tires down, to the pavement, to achieve efficiencies the public never sees by significantly reducing greenhouse gases." Tom Pyle, pavement management engineer with Caltrans, told ENR
To read more on the research done by Franz-Josef Ulm at MIT check out the article below.
Well Maintained Roadways Improve Fuel Efficiency- By Anne Wilson Yu.
This post is a summary of the article referenced above originally written by Anne Wilson Yu